We finally got to see Watchmen on Saturday. Evan and I decided to forgo the Obey house movie night and go out just the two of us. The night was hectic only because we usually go to the South Side on weeknights. We forgot how crazy crowded it gets and how long you have to wait to eat. The movie didn't even start until 10:15 so we thought we were good. FAIL! We ran around so long trying to find a reasonable wait for dinner that we ended up leaving and heading to the Waterfront for a 10:40 show. Haha. It worked out well even if we did end up dining at the Munhall Subway. Ick.

I always say if you are going to blow $10 per person on a movie, make sure it's one worth seeing in the theater. Comedies can wait to be watched on the couch, at home for free. They don't need to be loud or big. Watchmen definitely needed to be loud and big. It was ear beating (awesome) and full of sights that I want to see larger than life. And NO I am not talking about Dr. Manhattan's wiener!

The whole movie was great. It lived up to my expectations - sadly not exceeding them. But hey, I expect a lot. My favorite performances were Rorschach (I spelled that right on my first try, holy cow) and the guy that I call "Owlman" even though that's not his name. The chick was good, too. Not even sure what any of her names were...Miss Jupiter? That sounds right. Her clothes were notable to me because they were very contemporary (i.e., leggings with gladiator shoes and long sweaters with skinny belts)- even though the movie was set in the 80's. I liked how they did that. For that reason, it will be a weird movie to watch 20 years from now.

What's that? You say you want to know more of what's going on with me lately? Well, pull up a chair...

I decided to take the intermediate sewing class and make a further fool of myself. My dancing skeletons table topper is hilariously uneven. It will do the job, and no one will even (pun?) notice, but I will not be bragging about making it. That's for sure. My current project is a purse. I got the inspiration from a bag we have at DSW that looks like this: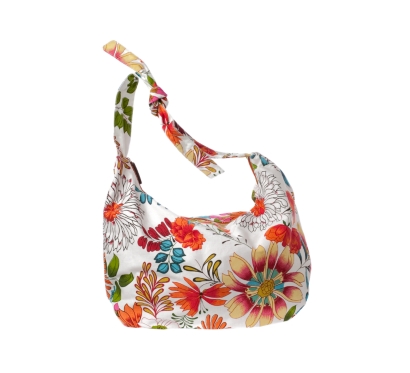 If mine turns out OK, I will post a photo of it. I'm scurred.

Aaaaaaaaaand, I've been a shopaholic since starting at DSW. I just got a great deal on some ridiculous fuchsia, sequined pumps. I can't find a picture of them to post. Grrrr. I wore them out on Saturday and quite a few ladies stopped me to say they loved them. I find it funny when people say, "I love those but I would never wear them!" Then what is it that you love about them? Seeing them on someone else is enough for most folks, I suppose. I live for attention, so it works out. What?!?!?! Did she just say that she lives for attention? I think you already knew that. People don't blog, Twitter, MySpace, Facebook, and yadda yadda yadda if they don't enjoy attention.

I will be buying these shoes on Sunday...already on sale...new markdowns happening at the Dub on Sunday...plus my discount...can't say no: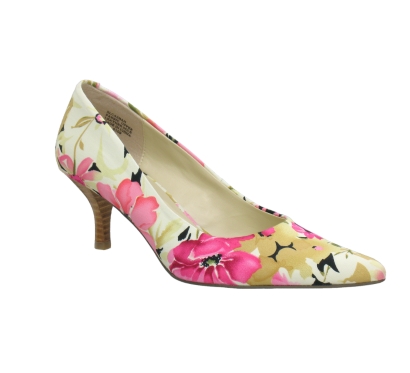 I love to shop. I always buy little things when we take Ivy to the mall. I never spend much. It's mostly clearance stuff. Today I went a little crazy but still didn't spend a lot. My real problem is that I have too much of everything and not enough space for it all. I always try to get rid of things I don't wear a lot but it's tough. Because I really MIGHT use things at any given time. It's no joke. Something might sit for a year until inspiration strikes me and I figure out just how to wear it! Jewelry, clothes, shoes - it's an art form really. That explained, can you imagine all the stuff I am hoarding in my costume stash?

In a nutshell - my life is soooooooo goooooood! Kyrie Eliason!